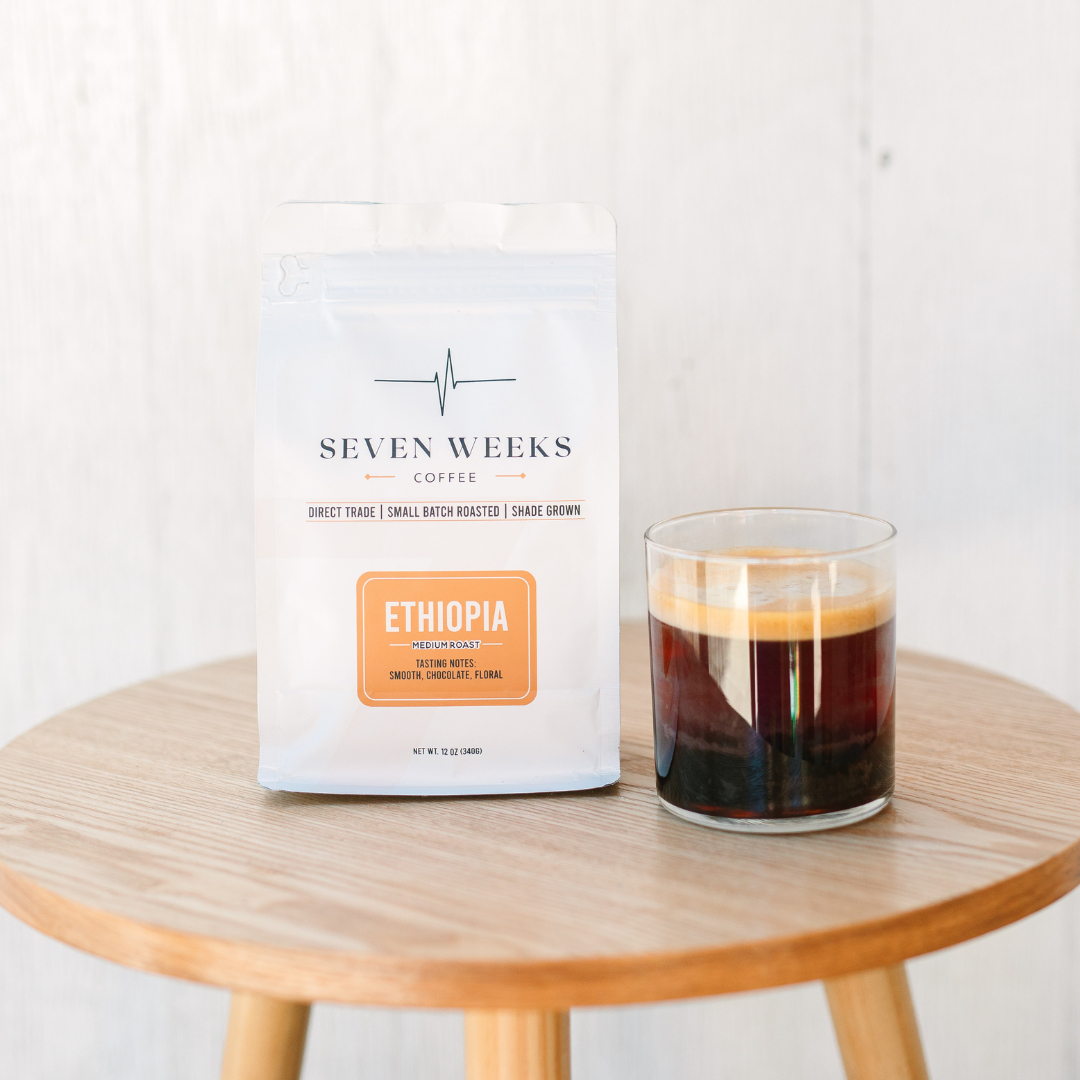 Ethiopia - Medium Roast
✅ Organically Farmed
✅ Ultra-Low Acid
✅ Shade Grown & High Elevation 
✅ Pesticide and Mold Free
Our Medium Roast is an all-time favorite. You can taste a full palate of flavors due to the high-elevation growth process. Notes of citrus and chocolate will have you waking up with a smile.
Tasting Notes: Smooth, Chocolate, Floral
*Whole bean only
Great Coffee-Great Cause
I usually prefer and order the dark roast, but decided to try the Ethiopian Medium Roast because from reading reviews it sounded very good. It is! The coffee has a very smooth, full flavor. My husband and I are rather picky coffee drinkers, as our son works for a local coffee roaster. We enjoy good coffee and especially appreciate companies that treat the coffee farmers well. Seven Weeks Coffee not only has great tasting organic coffee, paying the farmers beyond fair trade requirements, they help save the lives of precious pre-born babies. This turns the luxury of drinking coffee into a very important, great cause!
Amazing
I'm so thankful for Seven Weeks coffee! It tastes wonderful and is toxin free! I love even more that this company is supporting pregnancy crisis centers, helping women in their time of need.
Worth every penny
Deliciously consistent coffee with every flavorful cup. Love this coffee and love the company that delivers this coffee even more.
⭐️⭐️⭐️⭐️⭐️
This coffee is delicious! I love supporting pro-life businesses so the fact that the coffee is really good, icing on the cake!
Great coffee
We all really liked the flavor on the Ethiopia-Medium Roast coffee, so now I'll just have to get 2 bags of each. The Hope blend & Ethiopia Medium roast. It doesn't seem to matter which one I fix they always finish the pot of coffee off.
Notes: Smooth, Chocolate, Floral
*Flavors are not added to the coffee, these notes describe the natural taste of our coffee
Specialty Ethiopian Coffee
Single Origin
Small Batch Air Roasted
Whole Bean only
✅ Pesticide-Free
✅ Mold-Free
✅ Low Acid
We like to say our coffee is better than organic!
Our coffee is harvested in the most natural way possible. Our farmers use all organic practices and bring their coffee directly to the washing station. Pesticides are never used, and our coffee is also 100% mold free!
Think of it like going to your local farmers market. There are no labels or fancy slogans, just fresh products for you. The only reason we can't say "certified organic" is because the family farmers are not able to get official certifications.
But our coffee is as clean as coffee gets!