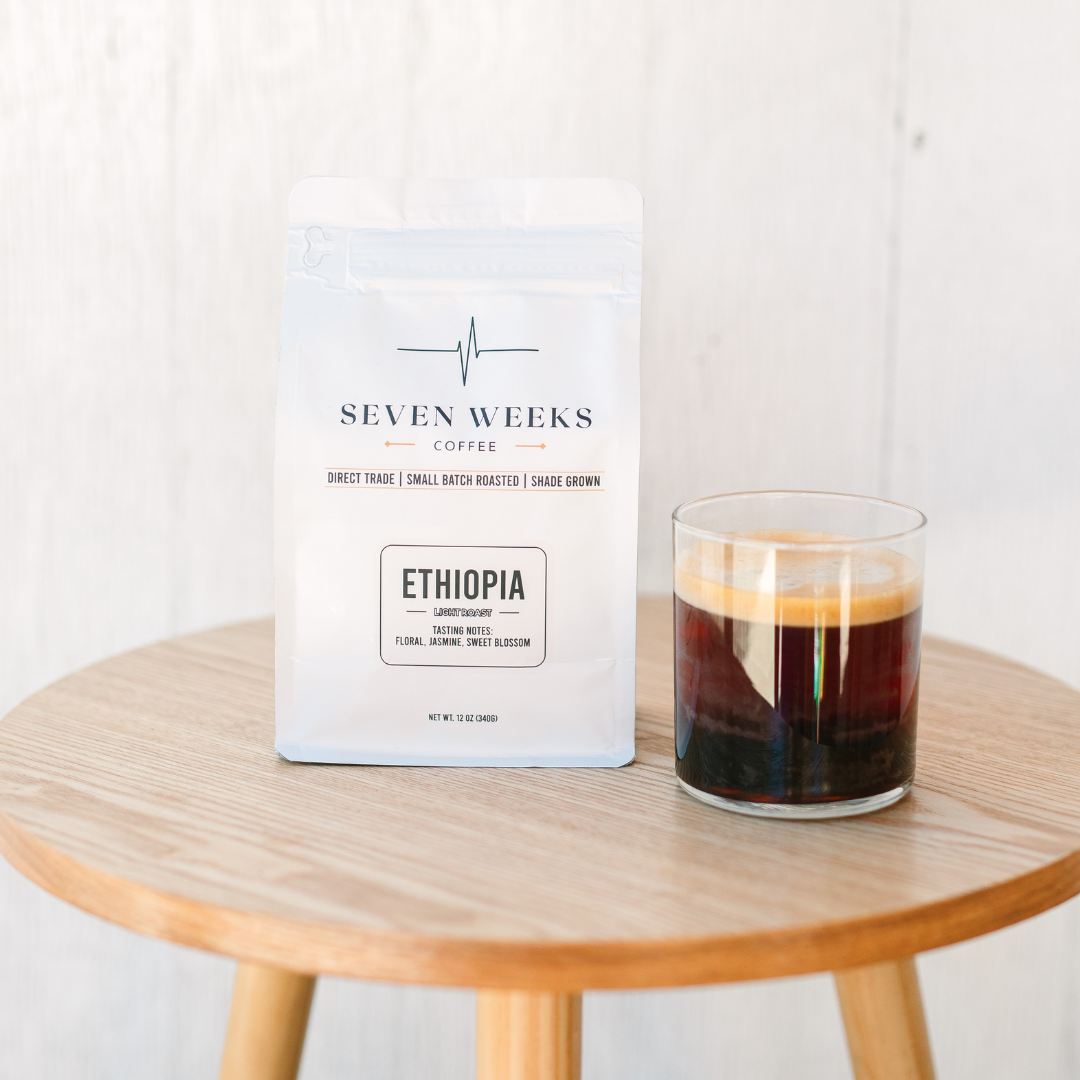 Ethiopia - Light Roast
Meticulously roasted and crafted to have a smooth and clean taste. Notes of Citrus, Cane Sugar, and a subtle hint of Chocolate will have your taste buds full of excitement! Our light roast coffee also has the most caffeine, making it a perfect choice if you need an extra boost of energy! 
Tasting Notes:  Floral, Jasmine, Sweet Blossom
*Whole bean only
Our coffee is harvested in the most natural way possible, utilizing all organic practices by our farmers. It's as clean as coffee gets! 
Taste the difference in every sip:
Mold & Pesticide free
Organic farming practices
Ultra-low acid
When you drink our coffee you will help save lives because we donate 10% of every sale to pro-life pregnancy care centers—this is upwards of 50% of our profits. 
Drink Coffee. Save Lives.
We source our coffee through Direct Trade, considered the most ethical method, as we collaborate directly with local coffee farmers. We go beyond fair trade standards by paying farmers 300% more, ensuring they earn fair and legitimate wages. 
From farm to cup, we're revolutionizing the coffee industry by establishing a supply chain that prioritizes uplifting people before profits.
Delicious and supports a good cause
My wife and I have tried many, many go-to daily coffees from other online sellers as well as roasters local to our region. Seven Weeks shocked us by blowing them all out of the water in both the flavor and quality of the espresso shots we pull with it. It's a hair pricier than most other "gourmet" whole bean coffees, but the difference in price really only accounts for the portion of sales they commit to pregnancy centers and other life-saving organizations across the country. With so many companies that silently support the culture of death around us, we are thankful that we found one that is actively fighting against it for the cause of life… the amazing zoom legumes is a nice bonus, too.
Love this coffee
Absolutely love this coffee and brand.
At last
Good coffee, easy to buy & helps save Lives! Always whole bean so I can grind for the pot I'm using!
Eureka ! Great Coffee.
I've tried your dark and medium roasts, both wonderful, but the light is better than described !