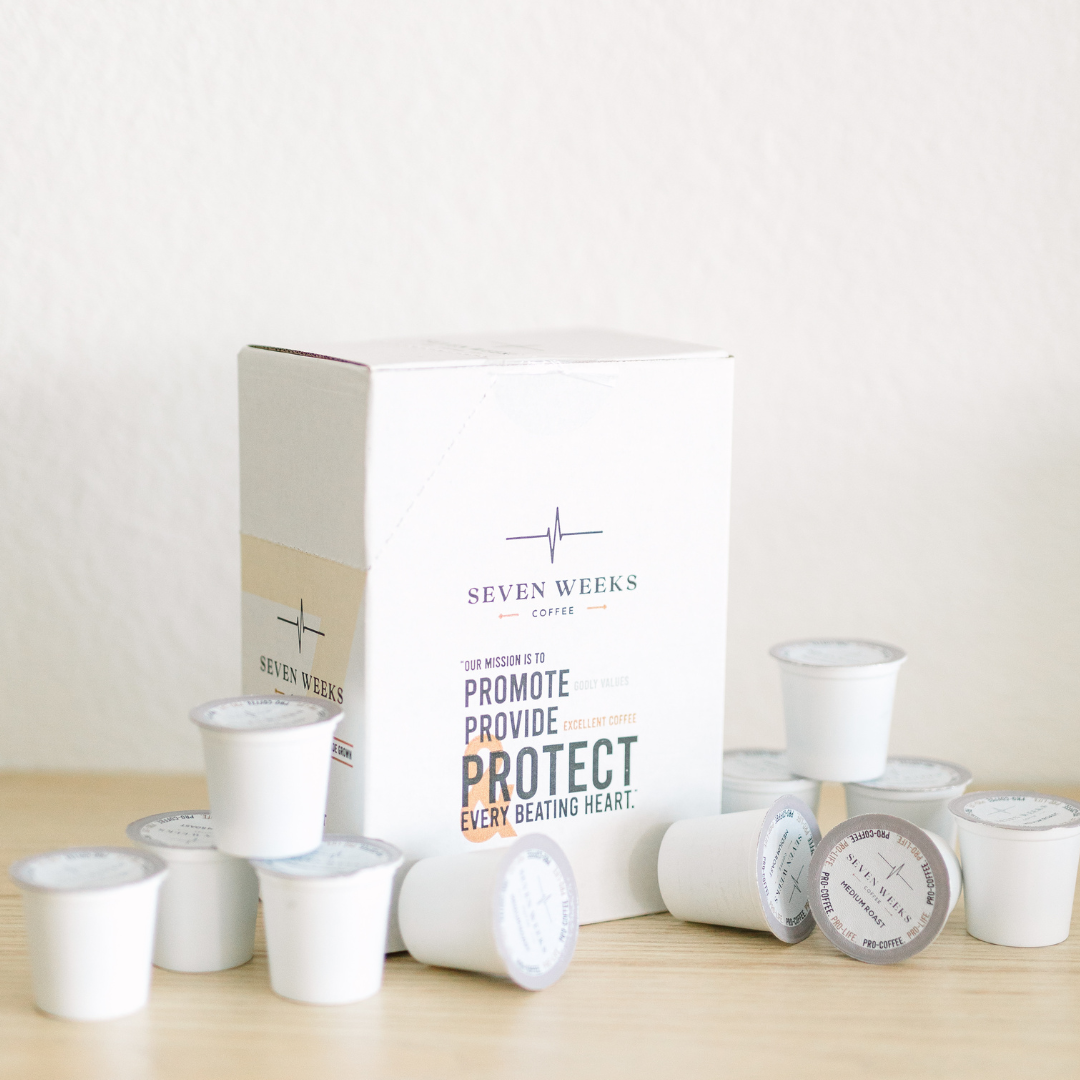 Coffee Pods - Medium Roast
Our flagship Medium Roast pods are here! Our all-purpose pods are smooth, rich and have a subtle hint of chocolate. We guarantee these will have you waking up with a smile.
Tasting Notes: Smooth, Chocolate, Rich
20ct. Single Serve Pods
Compatible with Keurig 1.0 & 2.0

Our coffee is harvested in the most natural way possible, utilizing all organic practices by our farmers. It's as clean as coffee gets! 
Taste the difference in every sip:
Mold & Pesticide free
Organic farming practices
Ultra-low acid
When you drink our coffee you will help save lives because we donate 10% of every sale to pro-life pregnancy care centers—this is upwards of 50% of our profits. 
Drink Coffee. Save Lives.
We source our coffee through Direct Trade, considered the most ethical method, as we collaborate directly with local coffee farmers. We go beyond fair trade standards by paying farmers 300% more, ensuring they earn fair and legitimate wages. 
From farm to cup, we're revolutionizing the coffee industry by establishing a supply chain that prioritizes uplifting people before profits.
Perfect delicious choice
I'm really enjoying the convenience of my coffee pods. I'm usually a dark roast person but this medium roast fills the bill nicely with a rich taste that's not over-powering.
Great Coffee!
Great flavor and smooth, less acidic.
The coffee tastes great and supports a great cause!
The Husband gives 2 thumbs up!!
I am not a coffee drinker, but I love gifting this worthy coffee to my family and friends who do. My husband tried the coffee pods, though in the long run our pods are for our guests. The husband prefers his coffee freshly ground BUT he said it tasted great and he thinks our guests will love them (and he said it will be nice to have the pods on hand when he doesn't have the time to grind his Seven Weeks Life Blend at home).
Thank you Seven Weeks Coffee for listening to everyone's feedback and branching out to offer coffee pods.