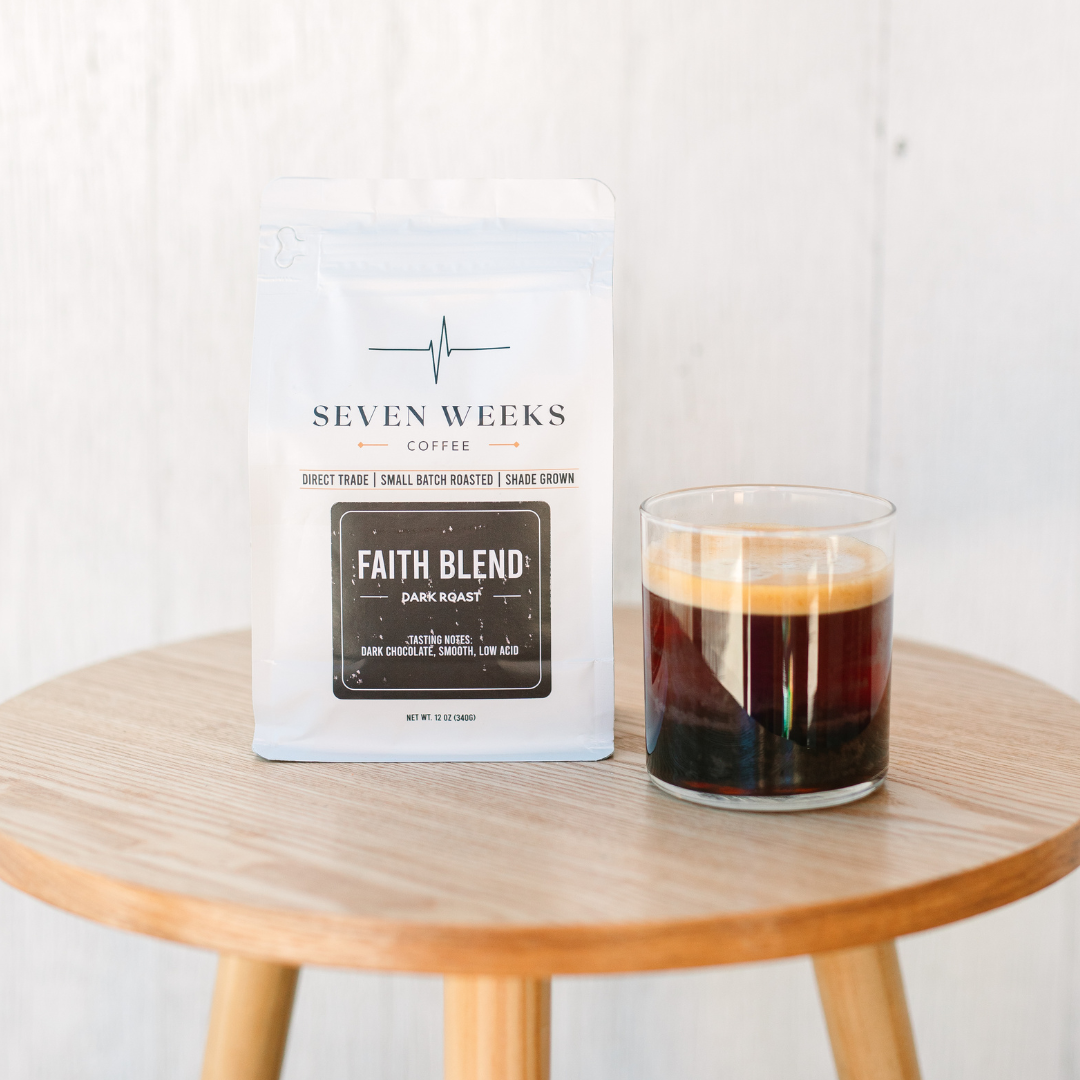 Faith Blend - Dark Roast
✅ Organically Farmed
✅ Ultra-Low Acid
✅ Shade Grown & High Elevation 
✅ Pesticide and Mold Free
Our Faith Blend is meticulously roasted for those who love darker coffees. Smooth, bold, and robust flavor. A perfect roast to start your day or for an afternoon pick-me-up!
Tasting Notes: Sweet Chocolate, low acidity, and low bitterness.
1 Corinthians 16:13 "Stand firm in the faith"
Best coffee - hands down
Dark and rich without being bitter. Bonus - best cause ever!
Faith blend
My favorite blend. Very smooth with delicious undertones. A really good coffee to give a kick start to your day!
Love this coffee!
Coffee is excellent! love the flavor and better yet love the cause!
Best coffee ever!
We are coffee snobs in our house and have had high quality, organic coffee beans from around the world, but Faith is quite honestly the best one we have ever had!
Excellent coffee! Rich and strong!
I loved it
Tasting Notes: Sweet Chocolate, low acidity, and low bitterness.

*Flavors are not added to the coffee, these notes describe the natural taste of our coffee
Single Origin
Small Batch Roasted
Whole Bean only
✅ Pesticide-Free
✅ Mold-Free
✅ Low Acid
We like to say our coffee is better than organic!
Our coffee is harvested in the most natural way possible. Our farmers use all organic practices and bring their coffee directly to the washing station. Pesticides are never used, and our coffee is also 100% mold free!
Think of it like going to your local farmers market. There are no labels or fancy slogans, just fresh products for you. The only reason we can't say "certified organic" is because the family farmers are not able to get official certifications.
But our coffee is as clean as coffee gets!