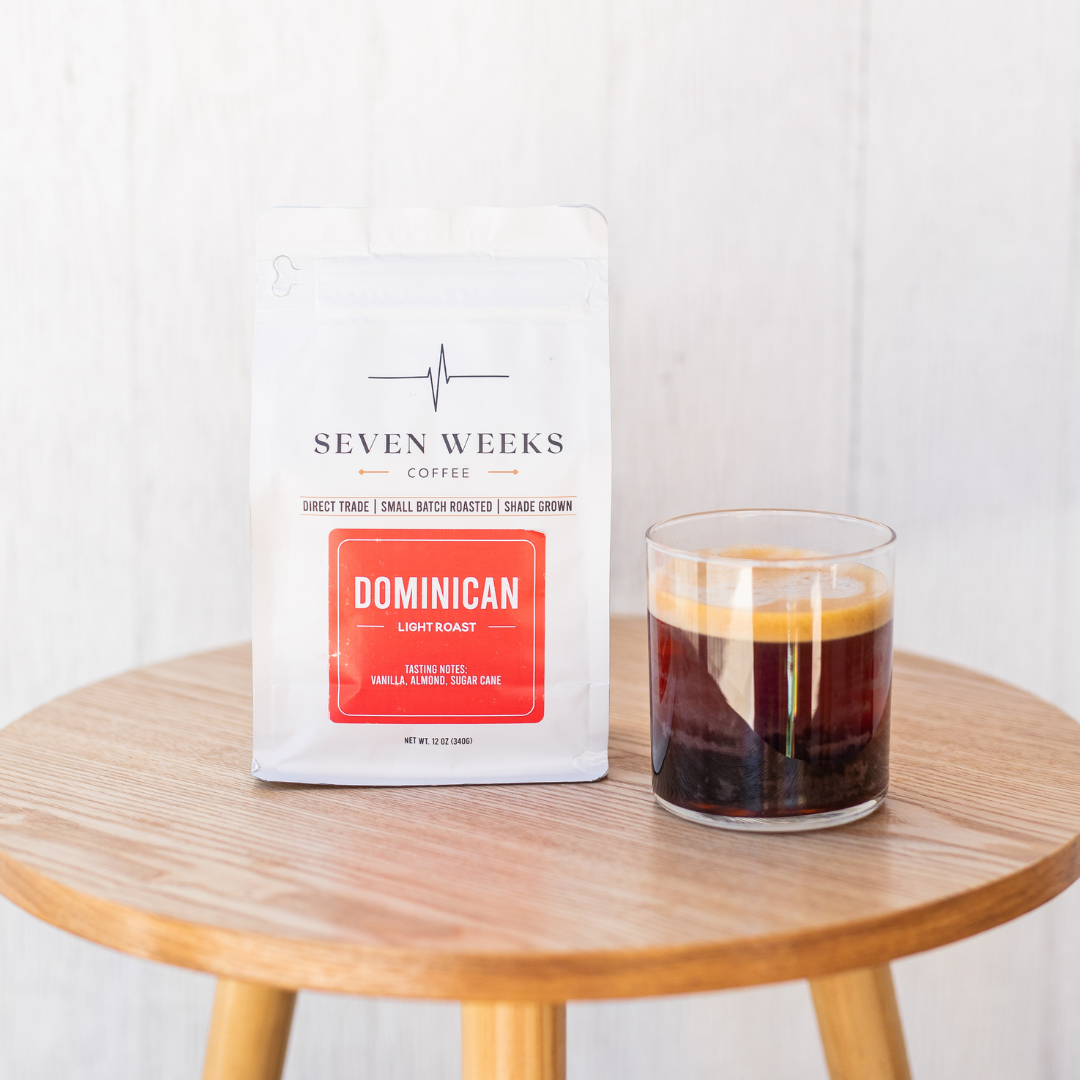 Dominican Light Roast
✅ Organically Farmed
✅ Ultra-Low Acid
✅ Shade Grown & High Elevation 
✅ Pesticide and Mold Free
Introducing our Dominican Republic, Single Estate Coffee. Smooth and sweet with notes of nuts, chocolate, and vanilla.
Tasting Notes: Vanilla, Almond, Sugar Cane
*Whole bean only
Dominican Light Roast
It was delicious. I dumped another brand I really enjoyed because I was unaware of their values. Not only is this delicious, but it fits in line with my beliefs. Thank you
Great Coffee!
This was our first time trying this coffee and we were impressed - it makes a wonderful cup!
Love this one!!!
Yummy, yummy to my tummy!! This is another favorite! I absolutely love that this coffee is the best low acid coffee that doesn't act like decaf AND it supports pregnancy centers (which hits home for me, since I've worked at a maternity home and I was also a single mom for the first 5 years of my son's life). Love, love LOVE Seven Weeks coffee. Now I have 2 favorite roasts!!! I still need to try the Ethiopian.
Coffee
I haven't tried the coffee yet but we are going to be putting baskets together for raffle items for our Top Golf Fundraising Event. I plan on creating a little info card about Seven Weeks to include in the baskets. The customer service was amazing as I went through this process with asking questions and getting information.
Thank you.
Good, But Not What I Was Hoping For
To be fair, this is still good coffee. But I don't like this one near as much as I like your Ethiopian coffees. I find them smoother and more fruity, more full bodied; this one has an odd earthy flatness that clashes with the roast and ultimately doesn't do anything for me. For now, I'll stick with your Ethiopian coffees.
Tasting Notes: Vanilla, Almond, Sugar Cane
*Flavors are not added to the coffee, these notes describe the natural taste of our coffee
Single Origin
Small Batch Roasted
Whole Bean only
✅ Pesticide-Free
✅ Mold-Free
✅ Low Acid
We like to say our coffee is better than organic!
Our coffee is harvested in the most natural way possible. Our farmers use all organic practices and bring their coffee directly to the washing station. Pesticides are never used, and our coffee is also 100% mold free!
Think of it like going to your local farmers market. There are no labels or fancy slogans, just fresh products for you. The only reason we can't say "certified organic" is because the family farmers are not able to get official certifications.
But our coffee is as clean as coffee gets!